In honor of 9/11, Sunny Days in Second Grade is hosting an American Pride linky party. I've gone back and forth over the past week deciding whether or not to discuss 9/11 with my firsties. Yesterday, the school showed a video "Remembering September 11" over the network, so I figured it was allright to discuss it with my class. We're starting a study of national symbols next week, so I thought this would be a good time to talk about it (and, I figured they probably couldn't go through the weekend without hearing something about it). One of the things that we'll do next week is to read this book:
This is a wonderful book written by a first grade class. It mentions the twin towers and what happened on 9/11, but focuses on the positive aspects of the children's lives and how they knew everything would be allright. We are also going to discuss the pledge and what each word of the pledge means (and what the words really are - you'd be amazed at what first graders say when they say the pledge). Then, we'll make torn paper flags.
I usually have my kids tear their paper into smaller pieces and use those to make a stripe (rather than the one long strip shown in this photo). I also use the die cutter to cut out the stars. They end up being very pretty and I found this poem that the kids can glue on the back of their flag:
Flag poem
Link up here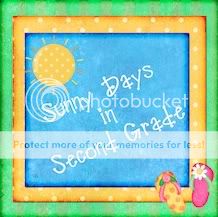 I hope you take time this weekend to remember 9/11. Pray for those who lost loved ones that day and for the everyday heroes who put their lives on the line for our freedoms and our safety.