Christina over at
Bunting, Books, and Bainbridge
is hosting another fun linky. This is the

So, I simply could not narrow it down to just one blog (I tried. Really, I did!). I was able to pick my top two, so here goes:
The first choice is my buddy Rebecca over at Teaching First. Not only does she have a really cool blog name (we're sorta blog twins - except that she makes some really awesome stuff and has some great ideas), but she was one of the first bloggers to regularly comment on my blog. Then, when I took sort of a blog break, she was the only one to "check up" on me by leaving me some encouraging comments. Thanks, Rebecca. You've got to check out her blog!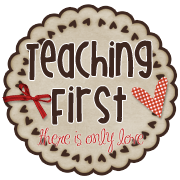 My second choice is Nancy over at First Grade Wow.
I love Nancy because of her kind and generous heart. She makes awesome packs and activities that are so much fun. The best part - she gives these things away for free! Now, don't get me wrong, selling things on TpT is a great way to earn some extra $. But there are some teachers who don't have the extra money to buy things like that. A few while ago, my hubby and I were in a bad financial situation (and actually ended up filing bankruptcy) and I remember looking at the things on TpT and wishing I had even a few extra dollars to buy some things. It was about that time that I discovered Nancy's blog. It just warmed my heart that she was willing to share her creations for free. Please head over there and check her out!