Tessa from Tales From Outside the Classroom is having a great linky party right now. It's all about the things that we love. What could be greater than that? So I'm jumping in with some of my "loves":
Above all else, Jesus is my first love.
Second is my family
this is my hubby and me at Rock the Universe last year
My Mama
My kiddos
Out there in Blogland, I have some blogs I love:
First Grade Wow
Nancy at First Grade Wow is AMAZING! Not only does she have the best ideas, but she gives away a lot of her stuff for FREE! If you don't follow her blog, you need to go there right now!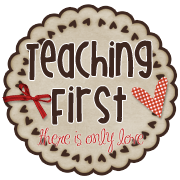 Rebecca at Teaching First is my bloggy buddy. She's so sweet. She was one of the first people that encouraged me when I didn't think anyone was reading this silly little blog. She took a little blog break a while ago, but I'm so glad she's back! Click her button above to check her out!
Products I love:
I just got this awesome pack from Christina Bainbridge:
It is great! I'm doing some fluency interventions with one of my sweet littles and this pack is exactly what I needed. It has an awesome reading "Bump" type game. I think I may have to use it as a station for all my kiddos since I know they'll be jealous when they see the game! The cool thing is that she has sets for the first 400 Fry words!
You can even buy them in a bundle and save some $$$! If you click her name above, it will take you right to her blog post where you can read about these packs.
Last, but not least, some of my food loves:
Have you tried these? I didn't really like the chocolate brownie ones, but the chocolate chip ones are OUT OF THIS WORLD!!! The problem is that I like them at the bottom of a bowl with vanilla ice cream on top (which sorta screws up the whole 90 calorie thing...). But yes, if you're really watching what you eat, they are just as good by themselves!
These are my favorite lunches from Lean Cuisine. YUM!
And who doesn't love a big juicy steak? Ok, maybe some people who have high cholesterol and can't eat red meat, but...they have chicken too!
Allright - now I'm dying to see what you love, so go link up!
Linking up with love