Oh my goodness! I don't blog at all for an eternity, then two posts in one week! Maybe I'm getting back on track. If you've been following my blog, you know that this year, our school decided to departmentalize for all grade levels. That means this year, I am only teaching math/science. Although I still have not decided whether this is the best situation, I know that this is how it is this year and we have to make the best of it. I have to say that one thing I do like is the fact that I only have to focus on and plan for 2 subjects rather than 4. This does make it a little easier on me, especially since we are transitioning to Common Core, new standards-based report cards/grading, and now departmentalizing. That's a lot of new stuff to take on at once.
We have 2 teachers that are teaching reading/language arts, 2 of us are teaching math/science and 1 class is self - contained. So the other math/science teacher and I were planning together and we were talking about how the reading teachers have tons of cute book related activities that they can hang up outside their rooms, but we really didn't have a lot. So we started looking at things that we used to use for reading activities and how we could adapt these things to apply to math or science.
Enter these cute scarecrows:
In the past, we've always had the students write a story about what the scarecrow sees as he stands in the field. This year, after coloring the front and adding their names:
The students wrote and illustrated a math story inside:
The kids had a great time sharing their math stories. And, they look really cute hanging in the hall (which is always a plus)! Next week, we'll be reading this book (gotta incorporate literature in every subject):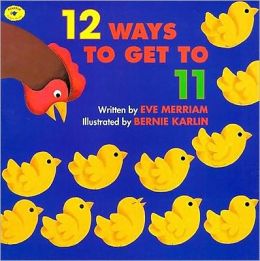 If you haven't read this book, you have to check it out! It's great for teaching different ways to make numbers. The students will be creating their own pages for a class book based on this selection. Come back next week to see what they come up with.